Steve's Evo VI Tommi Makinen Edition
Project outline – Build a track focused road car, maintaining a balance between performance and road compliance, brought together in one package.
Engine
– Prepared and Built in house at Auto Torque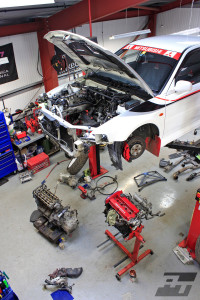 – EVO 9 Cylinder Block, bored to 86mm
– Factory Crank balanced
– Tomei Connecting Rods
– Mahle 86mm 9:1 Pistons
– ACL race shells throughout
– ARP fixings throughout

– Supertech valves
– Manley valve springs and retainers
– Tomei 260 poncams camshafts
– Tomei adjustable vernier pulleys
– HKS timing belt
– Balance shaft delete
– Port matched stock manifolds
– Uprated lash adjusters
All fixings, fitting, nuts and bolt zinc plated and variuos components powder
Transmission
– Lightened and balanced flywheel
– ACT organic clutch
– Stripped cleaned and rebuilt 5spd
– HKS 7460R Turbo
– 3″ Modular turbo elbow
– 3″ custom down pipe
Rebuilt Engine installed in the car: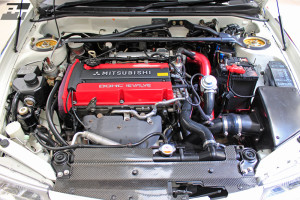 – ASNU fuel pump
– S90 throttle
– Fluid front damper pulley
– Blitz radiator
– Meek battery tray
– Pro-alloy header tank
– Cusco catch can
– Toyota Yaris coils
– Denso spark plugs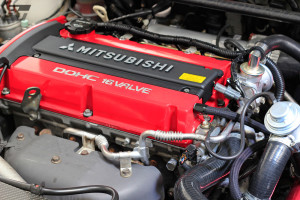 – Monstersport intercooler hard pipe kit
– HKS intercooler
– Meek intake pipe
– Monster Sport air box
– Custom AFM delete
– ASNU 1000cc injectors
– HKS Hi power silent exhaust
Managment and Electrontics
– Link G4+ plug and play
– Sequential spark conversion
– Oil pressure and fuel pressure ECU trips
– Bosch knock sensor
– Wideband AFR sensing
– Mac valve boost control
– EGT sensor
– Plex Usdm display
Suspension and Brakes
– Ohlins DFV Coilovers
– Powerflex bushings throughout
– Chassis brace
–  Whiteline Anti-roll bars Front and Rear
– AP racing Front 6 piston calipers
– Pagid RS29 pads
– Uprated rear discs
– Braided lines with 600 Fluid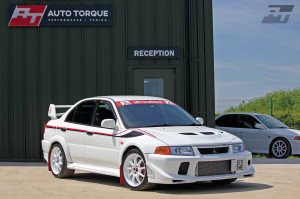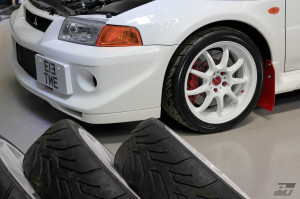 – AT Fast Road Suspension & Geometry Setup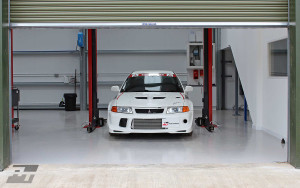 Steve's TME Journey.
The immersive and absorbing relationship between myself and E13TME began three and half years ago, following a road trip to the infamous Nurburgring with my very good friend Lee in his Red Evo 6.5 TME. Lee has a fair few laps under his belt and whilst he may not admit it he is a very accomplished driver when it comes to the Nordschleife. It took one lap as a passenger to totally convince me what my next purchase would be, what the cars are capable of and how well they drive and handle when pushed hard, this was a very quick lap and where I assumed grip would be lost the car just kept hugging the black top. I have to admit I had always been dismissive of Japanese cars having come from a predominately Ford inspired background and owning a plethora of RS Cosworths, Escort RS Turbos and RS 1600i's.
After the trip with Lee the seed was sewn, I was hooked and the hunt began for an Evo. I was unsure on which model to choose at this stage and so I began calling tuners and searching the pages of forums for hints, tips and reading owners comments. It became apparent that the general consensus was that for many the Evo CP9A model was more of a "drivers car" and that the RS or TME versions being far more desirable.
E13TME was imported via SVA Imports and was a 40,000km 1 owner, Evo 6.5 Tommi Makinen edition with Tein coilovers and a HKS Hi Power Silent exhaust system. The car was running standard power and was the perfect blank canvas upon which to make my mark. The drive home was filled with smiles per miles and the good feel factor of owning my very own Evo Tommi Makinen Edition.
So with the car at home and iPad in hand I began researching upgrades, sensible modifications and looking at what others had experienced with their own cars. The general consensus at the time was a 400/400 package with supportive modifications to handling, braking and most importantly driver training!
A boost issue developed with E13TME and after researching tuners within my area I came across Auto Torque who were perfectly based within 10 miles from my home. An appointment was secured and so began our working relationship, the fault was quickly diagnosed, repaired and E13TME was returned to a fully functional car, with the TME stripes from FCM complimenting the aesthetics package.
Looking at the cars that were present in the workshop, being surrounded by cars in for service, modifications and tuning I was the proverbial "kid in a candy shop". Auto Torque are a team of qualified, experienced, passionate and professional individuals who when approached really do extend their "welcome to the family" signature. Time was set to one side (as it is at each appointment), to sit and discuss my requirements and formulate a strategy for the development/evolution of E13TME. In my experience it is essential to have a preferred tuner and with that tuner to have a working relationship that is non-objective, transparent and fully committed in delivering excellence, thus far Auto Torque have delivered on all levels.
Round 1 in the tuning stakes was the proverbial "stage 1 package" this including the uprated fuel pump, 3-port boost solenoid with an ECU remap that awakens the dormant potential of the Mitsubishi Evo. The transformation from a stock 280bhp car to a lively 350bhp car was nothing short of exhilarating and the "smiles for miles" feeling continued, albeit with more pace than before. I secured a track day at Oulton Park with Chris from Auto Torque, a shakedown of the car and myself ensued as we were put through our paces. The feedback I got from the car was analysed and further talks were held with Auto Torque. A trip to Spa and the Ring followed with the car continuing to deliver and my thoughts drifted to where I could improve upon the car.
Round 2 of the development comprised of Ohlins DFV's, uprated Whiteline ARB's and AP 6 pots upfront with new 2 piece discs and pads all round. A full geometry set up to fast road, occasional track use was dialled in to the car and 4 new RSR tyres were fitted. What then followed was a completely immersive road trip on the Rico Rally European driving adventure with myself, my daughter and Chris Marshall and his father. To take a Mitsubishi Evo through its paces over the Alpine passes, surrounded by the most epic views imaginable will last with me for the rest of my life. The trip itself was a "must do, bucket list" adventure that delivered on all levels. And the Evo? Well that delivered in all areas too and was in my opinion was totally at home in its natural environment.
Following the European trip the car was dispatched to PW Pro where the car received a full week of pampering by Paul enhancing, correcting and detailing.
Round 3 was the stage at which the car took on a serious evolutionary stage with Auto Torque and this is where the heart of the beast was worked upon and the engine bay area received open heart surgery. After what seemed like an eternity of researching and talking with other owners and deciding what I specifically wanted from the car and a package was put together. New phrases and technical terms were added to my vocabulary and learning about transient response, boost threshold, turbo cfm in relation to cam lift/duration and what packages work well with first hand experience. Anthony Cox AKA MrRalliart on the MLR forum was firstly an inspiration to the development of the car and provided endless answers to questions via PM. For the majority of my build thus far I have tried to keep costs to a minimum and have trawled the for sale sections on Facebook and the MLR where deals are made, projects are broken and where owners have change of plans. This has saved me a great deal of money in the development of my car and this was further supported by my tuner not trying to sell me items I never needed and providing endless answers to questions when compiling a parts inventory.
With the parts amassed, the car was delivered again to Auto Torque , this time the engine was removed along with its ancillaries and in return it was fitted with a plethora of parts I had collected from various sources within the UK, Ireland and Japan and Australia. The package was a fully forged engine with uprated turbo and intercooler and a myriad of parts designed to enhance and support the package. It was perfectly executed by Paul over at Auto Torque who's attention to detail is second to none and he was continuously sending over small snippets of information and updates as the project was put together. We were all unsure on the final outcome on the power figures that the sum of the parts would make and on the day of mapping we all submitted what we believed to be the outcome. Ultimately throughout the process I had one direction and ambition for my car and that was for it to be fast spooling and to become a quick point to point car. So on the day of the mapping session I was very nonchalant in committing to my estimation on power and rather than commit to a figure I simply spouted "as long as it builds boost really early" that was always interested in. Secretly I was hoping for the magical 400 figure but never let on and refrained from showing an interest in figures. Paul messaged me asking what I thought it had made knowing that the mapping session was over and I casually commented "anything over 380 would be great!". To everyone's surprise it made a whopping 434bhp and to say I was excited was an understatement, eagerly asking Paul "what does it drive like it?" to be met with "its still on the dyno and that he had not had chance to drive the car". Remember that so far I had collected parts for my build and Paul was instrumental in orchestrating the build to the highest of standards and that we both were passionate about the outcome of the build. Eventually I had the message "it pulls like a train and it feels like you have been hit up the backside by a bus!" that's enough to keep any customer excited in anticipation until the car was back in my hands.
In a short period of time E13TME had progressed from standard to 350 and then 430bhp and the resulting overall that is nothing short of breath taking. Taking the time to research parts, packages and talking to my tuner and to other owners has paid dividends. Having forged (what I perceive to be) the perfect working relationship with Auto Torque, where they have delivered my car to the exacting standards and vision that I absolutely and unequivocally wished it would be. This voyage would not have been possible without this relationship and there were two clear sides in the development of E13TME and it is essential in my opinion that both sides are harmonious. The cars development at each and every stage has had parts that compliment the package and enhance the performance of the car, everything there serves a purpose and oh boy does it work!
Following the last chapter of the cars evolution we have again ventured to the Alpine passes and taken tuition at Brands Hatch, the car really is a complete package now and there are only a small number of upgrades I wish to pursue. For the most part I want to show off the fruits of my labour and to just drive the car!
I cannot reiterate enough the importance of working with your tuner, not all projects are like mine, some self-build, some go to their tuner for specific requirements and many stay at stage 1. My journey was a hand in hand process and without my tuner my car would not be the car it is today and therefore praise should be given where it is duly deserving.
Thanks to Paul, Chris and the team at Auto Torque, Ross Sport for the supply of performance parts and Mitsubishi OEM parts. Anthony Cox for the never-ending stream of messages via the MLR. Rob Dunphy for parts and just for being generally a nice guy and finally Lee for introducing me to Mitsubishi Evo ownwership.
So how does the car drive? It honestly feels that each and every part has completely complemented the package. Firstly the handling and braking via the ARB'S, Ohlins and AP Racing calipers with Pagid pads make the car very compliant, sure footed and "planted". The car is very responsive and builds torque very early resulting in improved turn in speed assisted by the TME quick rack. Body roll has been reduced and the Ohlins damping is perfectly valved, improving traction, corner entry speeds, the change from Tein to Ohlins has been remarkable. The AP Racing 6 pot calipers combined with 2 piece discs and Pagid pads provide confidence inspiring braking that have made me change the way I used the brakes and can leave braking until much later. The most dramatic observation was the reduction in heat from the standard Brembos, but that may have been due to the pads I was using at the time.
The delivery of power is hugely different to when E13TME came into my ownership and agreed 280 to 430bhp is dramatic. But the noise from the turbo now is very noticeable and the spool, transient response and torque are on another level. It pulls itself round corners with massively improved grip levels and once the tyres have heat in them it yearns to be pushed on and on. On track it fulfills all of my needs and then some, it really is a blast to drive. My confidence builds with each drive and each track day and as I become more confident the car becomes far more pleasurable.
The package now feels so complete and I am fully aware that it has so much more to give as I push the boundaries of the car and that of my own. Would I like more power? Knowing how well this car delivers I find it hard to want more, at this juncture I openly admit I have far more to learn about my car and of my ability. So I remain with the conclusion that until I have the ability to out drive the power of the car then the package will remain as it is, having over 400 bhp on track is far more than I can use at this stage and I am confident I will never out drive E13TME.