H wanted two things, a car that is faster than all his mates and it to be bonkers!
After blowing his previous engine on some high speed runs, it was time for a change and to make his old trusty Evo bonkers fast!
To make it stand out, H wanted the Sheepy race forward facing turbo kit.
We stripped down the old engine to find that none of it was reusable, the head had hairline cracks, and the block was very poorly scored that it would have needed sleeving. So we sourced a brand new Mivec head from Mitsubishi and a magnificent low mile Evo VI block, which we converted to run the Mivec head and Evo IX water pump.
The head was then port matched to the vast Magnus inlet manifold and Sheepy race exhaust manifold before it received three-angle valve seat cuts and all the Supertech hardware.
The block, as well as being converted to Mivec, was bored to 85.5 and faced, then thoroughly cleaned and treated so a lick of paint.
Meanwhile, the Manley crank, rods, and JE pistons, along with the Exedy clutch, were all off being balanced.
Once back from machining and balancing, it was time to build up the engine.
Engine built, it was time for the install and transmission swap.
In its home, we could plan out all the custom parts like the radiator, breather tank, boost pipes, fuel lines, and wiring.
With the running-in mile complete, it was mapped to run both 98ron petrol and ethanol.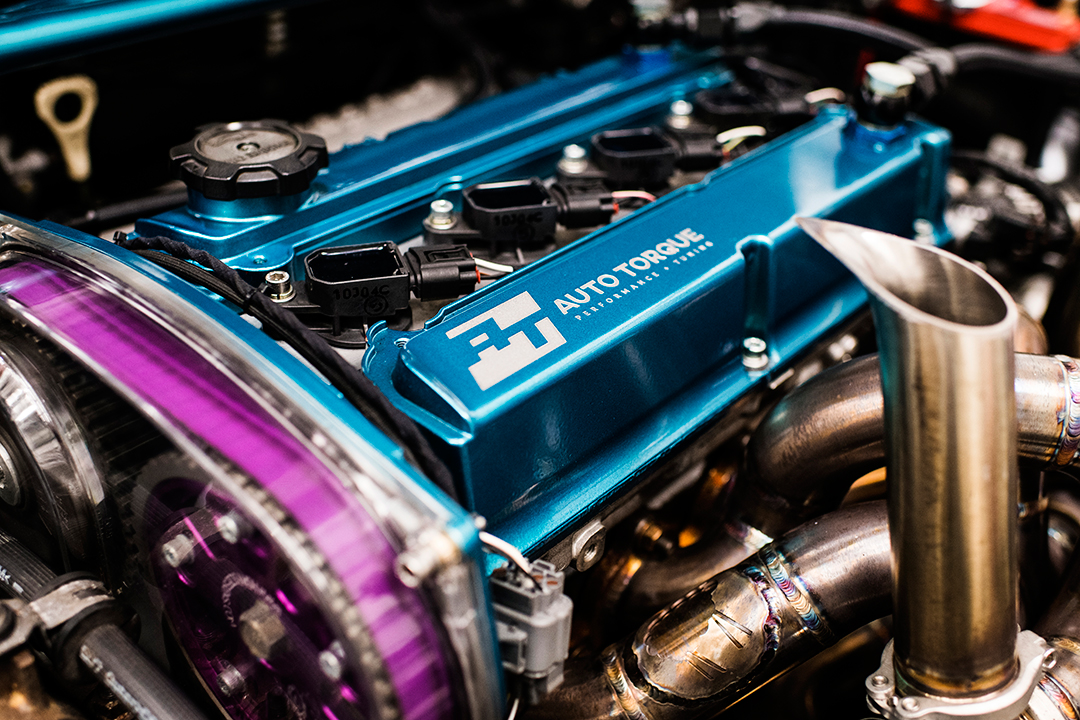 Auto Torques Evo IX Forward Facing Turbo Project
Build spec
Manley 2.2ltr stroker crank
Evo vi block converted to mivec
Manley turbo tuff rods
JE 85.5mm pistons
Tomei 270° mivec cams
Brand new mivec head
ND exhaust cam pulley
Supertech inconnel +2mm exhaust valves
Supertech stainless steel +1mm inlet valves
Supertech high temp seals
Supertech duel valve springs
Head port matched to manifolds
HKS cam belt
+3 lash adjusters
Magnus inlet
ARP L19 head studs
Duel head gaskets
New OE oil pump
ARP main studs
ACL race shells
AT modified Mivec pulley
Balance shaft delete
Modified cam cover for breather system
Sheepy race forward face exhaust manifold
Sheepy race front mount intercooler and pipe work
Precision 6466 turbo
Turbosmart gates
Turbosmart BOV
AT custom catch can
Bosch Porsche 80mm DBW throttle
AT custom twin flow rad
Fuel system
Walbro 255lph lift pump
Duel bosh 044 pumps
Swirl pot
External filter
Magnus billet rail
ASNU 1300cc injectors
Aeromotive fuel pressure regulator
An-8 feed and an-6 return PTFE lines
Flex fuel sensor
Transmission
6 to 5 speed conversion
Rebuilt 5 speed gearbox
Exeedy triple plate clutch
Rs rear diff conversion
Management
Syvecs s6i ecu
Toucan display
KA oil pressure sensor
KA fuel pressure sensor
KA MAP sensor
High speed charge temp sensor
Bosch knock sensor
Flex fuel sensor
3port Mac valve
Nissan throttle pedal modified
Porsche throttle
Toyota coils
Sequential ignition conversion
NTK wideband sensor
Other
Ksport big brakes
BC coilovers
Toyo r888 tyres
Rota grid wheels
Carbon bonnet
Check out the Youtube video below:
For any custom build however big or small we would be interested to hear from you, drop us an email or call to see how we can make your dream a reality.
[email protected]