Frank's Mitsubishi Evo V Underbody Restoration
Born in Japan some 20 years ago and imported to the UK in 2017, this fine example of an Evolution was delivered to it's first UK owner, Frank, in an already very clean condition. Since Frank took ownership, this now breathtaking Scotia White Evolution V has been meticulously renovated by the Auto Torque team to a concourse show specification.
Follow the progress in the gallery below which sees the car on arrival, right the way through to the finished product some weeks later.
Upon arrival the first task was to draw up a plan of action, which was agreed between Frank and Auto Torque. It was then down to technician Joel to execute this build, ensuring everything was exactly as it should be, to meets Frank's expectations. While the first parts were being removed from the car, in the office, Neil was hard at work, searching, sourcing and coordinating the build process.
The original outline was to freshen up the underside of the car, add some polyurethane bushes and powder coat some original parts. Well. This plan soon snowballed into a full underside repaint and restoration of every component in sight!  One by one, as items were added to the list of jobs to do, soon we ended up undertaking the whole lot!
We think you will agree, the finished product is a real spectacle and a testament to the level of finish that can be achieved here at Auto Torque. This project has been a labour of love and a long time in the making, so it is with great pleasure that we share these images with you.
Brief Specification;
Complete Polyurethane Bush Kit
All Suspension components blasted and powder coated
Tein Dampers replaced with MeisterR
Underside prepared and painted in Scotia White
Refresh exterior of Transmission components
Zinc plate all bolts
As the car arrived with us: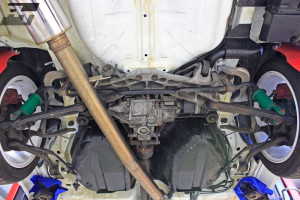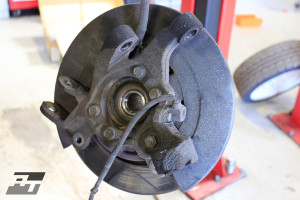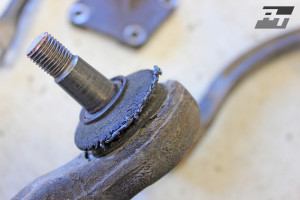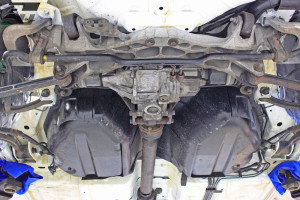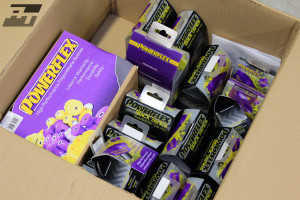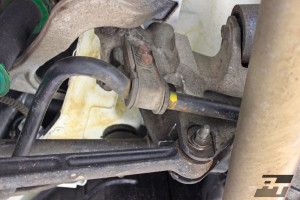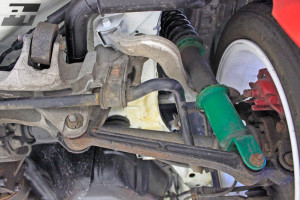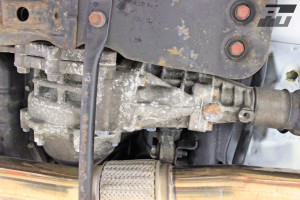 Work in progress:
After: